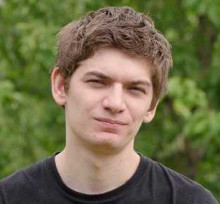 Vzdelanie
2021 Graduate of the Summer of Unreal online course
2012 - 2017 FTF VŠMU, Bratislava, Visual effects, Mgr.
2000 - 2008 Štefan Moyzes Grammar School, Moldava nad Bodvou
2014 CG LEAD & ART DIRECTOR, BLUE FACES
2018 EXTERNAL LECTURER, Hemisphere - Level up.
2014 CEO & ART DIRECTOR, REMBROSOFT, Games for iOS and Android - Nuclear War, Job Restaurant, Medieval Generals (In production), PC game - Colonize (In production)
2011 - 2014 Freelancer. Clients: 2bugs, archiMEDES, Banzai Interactive, Blue Faces, Digital Art Force, Giant Propeller, Grip Games, Lightning Beetle, Realview, ROXX Swiss, Studio 727, Tox Production, The Easy Company, UPC, YIT.
2009 - 2010 Senior 3D artist Games Farm
2007 - 2008 3D artist, Datacrea.
Co-founder of the Rembrosoft game studio, long-term CG lead and lecturer.
Výber profesionálnych projektov
Feature films
2022 - Perinbaba and the Two Worlds, r. Juraj jakubisko
2021 - Martin and the Mystery of the Forest, r. Petr Oukropec
2019 - Little Empire, r. Peter Magát
2018 - A Xiu Luo / Asura, r. Peng Zhang
2017 - Xibalba, r. Joaquin Rodriguez
2015 - Hardcore Henry, r. Ilja Najšuller
2013 - Lost Place, r. Thorsten Klein
Short films
2021 - Cultivating Curiosity - short film for the candidacy Trenčín, European City of Culture, r. Pavol Čižmár
2019 - Pura Vida, r. Martin Gonda
2017 - Lil dicky - Pillow Talking
2017 - One Small Forum, r. Martin Gonda
2014 - Jama, r. Pavol Čižmár
Advertising projects (selection)
2022 - CAP Clean energy
2021 - VRAJ - VR application for BOD promotion
2021 - Kickresume
2021 - Suri by Tesco Moblie
2019 - Ralf By Raiffeisen
2019 - Billa Vitoši
Author's projects
2022 - Colonize Prologue, PC RTS game
2015 - Cokenstein
2014 - Africa, or whatever it is
Other projects (selection)
2018 - 2021 - Hemisphere - external lecturer Maya, Unity
2017 - The Hamilon Mixtape: immigrants (We Get The Job Done)
2017 - Free the Night - VR App